I Can't Afford a Therapist: How to Find Relief
Sep 11, 2021
Many individuals with a history of trauma need therapy but can't afford a therapist.
While nothing will truly replace therapy, I want to share a few things that can help you find some relief from your distress.
Why are therapists important?
Therapists are meant to support us through difficult times and painful emotions.
And when we can't afford them, it can be discouraging and feel like we are bound to feel miserable forever.
But if you can't afford to see a therapist, all hope is not lost.
Sometimes we just have to get creative and try some new things to help get our mental health on the track we desire.
There are various ways to find relief (even if just a little bit) when we can't afford a therapist.
From big, somewhat scary steps (like joining a support group) or smaller steps, like completing workbooks and changing our lifestyle habits, there are things you can do to find the support you need.
Before I get into some practical tips for finding mental health relief, here is a resource for you.
BetterHelp is an affordable online therapy service. Talk to them about what you can and can't afford and see what your options are.
But if you still can't afford therapy, here are a few other things that you can check out to get some help with your mental health.
Books and audiobooks
Books and audiobooks have been some of the greatest gifts for me while I struggled through depression and overcoming PTSD.
I have always been a reader, so I prefer books.
But if you don't like to read, you can download an audiobook.
No matter what you're struggling with, there's a book out there to help.
Depression, anxiety, a critical inner voice, overcoming your past, eating disorders, you name it...
There's a book out there for you.
Workbooks
Workbooks take a lot of energy and time, but they will give you the resources and tools you are looking for.
It takes energy and time to see a therapist every week.
Put that same time and energy into some mental health workbooks.
Even if you only spend one or two hours a week on these workbooks, they will help you feel supported and guided as you work through your emotions.
It is a great and affordable resource.
Attend Support Groups
Having support when dealing with any type of mental health issues is essential.
Many support groups are led by peers or therapists at a low cost or even for free.
Learn more about support groups in your local city by visiting NAMI.
Or you can consider joining support groups like Alcoholics Anonymous (AA) or Narcotics Anonymous (NA).
Groups like AA and NA emphasize the importance of working together to overcome common struggles and be surrounded by people who understand you.
Having a community that understands you can be a game-changer.
Find a sliding-scale therapist.
You may have gone on to your local therapist website and found that therapists are charging $100-250 per therapy session.
It may feel discouraging and make you want to quit at that moment.
But some therapists offer what's called sliding-scale therapy, where you can discuss your financial situation with the therapist and find a rate that works for you.
You may be able to find a therapist who will be willing to charge you $50 instead of $100.
Search for therapists who take sliding scale fees and ask them about your options.
You can check out therapists in your area at Psychology Today.
Call 211
211 is an information and referral service that will provide you with useful resources in your community.
Let them know that you are struggling with mental health issues, that you can't afford a therapist, and that you're looking for free (or affordable) resources in your area.
They will help you find local support groups, clinics, drug and alcohol aid, and more.
Find local community resources.
Many cities have mental health non-profits that are free to the community.
Try googling mental health organizations in your area and call the front desk.
They will be able to give you more information on what they offer at their own organization.
If they aren't offering free resources at this time, they should be able to provide you with some tips on where you can find support.
Crisis Text Line
If you are in an emotional crisis, always call a crisis hotline or 911 if needed.
Many of the people who respond on crisis hot lines are volunteers.
But they have countless resources to provide for anyone who needs them.
You can text BRAVE to 741741 and be connected with a confidential crisis counselor who can provide you with resources to help you cope and feel supported.
Take care of your mind.
We look for a therapist because we need help taking care of our minds and coping with our emotions.
So start making changes in how you take care of your mind today.
Everything we consume, from movies to tv to social media, affects our mental health and wellbeing.
Fill your brain with positive thoughts and information.
Replace your media consumption with workbooks, self-help books, or support groups.
Stop watching shows that make you feel anxious and depressed.
Be aware of the personalities you are surrounded by.
Take care of your body.
One of the most important things you can do if you can't afford a therapist is to take care of your body.
Taking care of our physical health is one of the best ways to cope with mental health symptoms.
Eat healthy foods, avoid excess sugar, drink lots of water, get a good night's sleep, and get daily exercise.
When you take care of your body, you take care of your mind.
And your mind needs all the support it can get right now.
Journaling
It's painful, isolating, and lonely when you feel like you have no one to talk to about your mental health experiences.
Journaling can be a beneficial way to process some of the things you're experiencing in your mind.
One study showed that individuals who wrote about painful emotions for three weeks felt an increased sense of wellbeing and increased happiness six months later.
The second (control) group wrote about what they did throughout the day but did not write about their emotions.
There was no change in this group's happiness levels six months later.
This study shows that there is immense power in writing down the things you're struggling with.
If you want to begin journaling for your mental health, you can download my free mental health journal prompts worksheet to help you get started.
Limit your drug and alcohol use
I cannot stress this tip enough.
Quitting alcohol changed my life and was a game-changer for my mental health.
If you are struggling with mental health symptoms, drugs and alcohol will make it 100% worse.
Even if being drunk or high brings you some relief, your anxiety and depression will skyrocket the second you are sober.
And it could become a vicious and dangerous cycle.
If you feel like you are out of control with your drinking or drug use, try joining an AA or NA meeting for support.
Podcasts
Podcasts were one of my most valuable tools when I was experiencing a lot of depression and anxiety.
It gives you an instant boost of positivity.
It makes you feel like you are surrounded by incredibly supportive and awesome friends.
Find a podcast that discusses the issue you're struggling with (depression, anxiety, motivation).
Podcasts will have endless tips, tricks, exercises, and advice for helping you get through difficult times.
Check out my favorite podcasts for self-growth if you need somewhere to begin.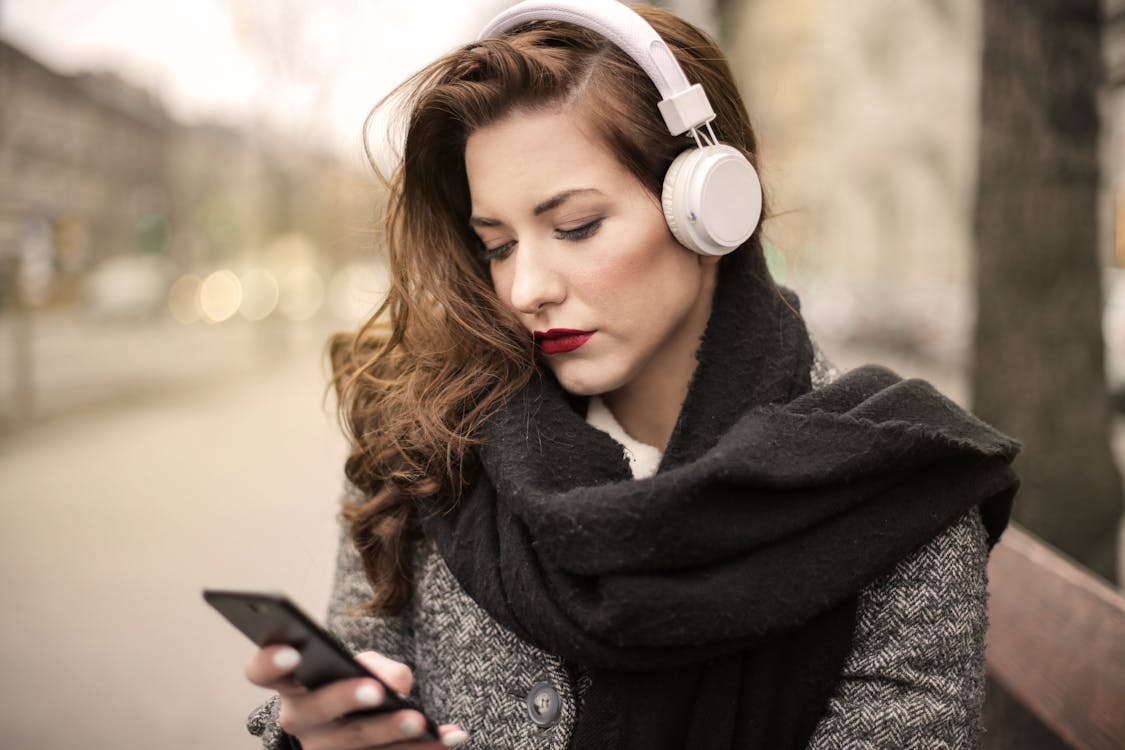 ---
In this blog post, you have read about a few different options to help you find relief if you can't afford a therapist.
There are a ton of opportunities and resources regarding getting mental health help, support, and tools that are affordable or free.
Additionally, taking care of our bodies and minds is one of the most important things we can do for our mental health.
Take this Trauma-Informed Relationship Assessment!
---
Download the FREE Trauma-Informed Relationships Assessment to discover the 5 different areas that past trauma has impacted your intimate relationships.
We hate SPAM. We will never sell your information, for any reason.